India, Indonesia and Islam outside the Mideast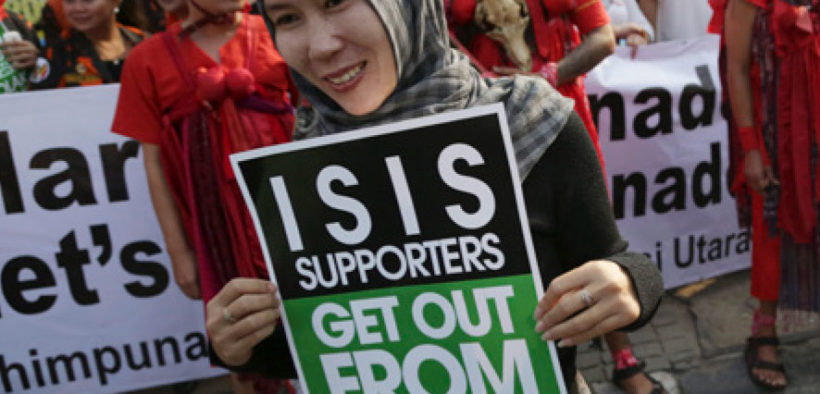 Modi, Jokowi and the common test of radical Islamist groups
While the leaders of both India and Indonesia face some common long-term challenges in managing their respective political systems, they both face the more pressing challenge of countering the rise of violent Islamist groups intent on undermining political stability and order in the two countries. In India, on January 2nd of this year, a heavily armed group attacked the country's Pathankot Air Force Station. Up to six attackers and seven Indian military personnel were killed. It took the Indian military some four days to put down the attack. The attackers were suspected members of Jaish-e-Mohammed, an Al Qaeda-linked Islamist militant group based in Kashmir.
Indonesia's violent Islamist groups include Jamaah Anshar Khilafah (JAK), the Mujahidin of Eastern Indonesia, based in Sulawesi, and various outfits affiliated with Indonesians fighting for ISIS in the Middle East. On January 14th of this year, a group of militants likely affiliated with or funded by ISIS, launched an attack in the centre of Jakarta, the Indonesian capital. At least eight people were killed, including five of the assailants. Nearly two dozen people were injured.
After a series of terrorist attacks around the world instigated by violent Islamist groups, many Indian Muslim organizations have condemned ISIS as un-Islamic and have issued fatwas against the organization. In Indonesia, the Nahdlatul Ulama, an organization of Muslims with more than 50 million members – and whose leader, Abdurrahman Wahid, was Indonesia's president between 1999 and 2001 – has produced a 90-minute documentary condemning ISIS.
Apart from traditional trade and economic relations, there is urgency for India and Indonesia to initiate a process of mutual learning about how to safeguard the forms and practices of Islam in the two countries, which have historically – and generally – emphasized pluralism and tolerance toward adherents of other faiths. Nearly 13 percent of the world's Muslim population lives in Indonesia, which makes it the world's most populous Muslim nation. India has the world's third largest Muslim population – that is, some 14 percent of its huge population. Indonesia's polity is today being challenged by various Islamist groups that are bent on using violence and terrorism to establish an Islamic state to replace the secular republic. India's social fabric, too, is coming under increased pressure by communal riots between Muslims and Hindus, reminiscent of the violence that occurred when India and Pakistan emerged as two new countries gaining independence from British rule.
Of course, India embraced democracy well before its republican constitution came into force in 1950. Indonesia, for its part, had a chaotic period of parliamentary democracy until 1957, when Sukarno established an autocratic system called 'guided democracy.' Sukarno was effectively stripped of his powers in 1965 by the military, leading to the formal installation of General Suharto as president in 1968. Indonesia under Suharto's administration was touted as an economic miracle. The UNDP awarded him a Citation of Achievement in 1997, showcasing official figures that claimed that the number of poor in Indonesia had fallen from 60 percent of the population in 1970 to 11 percent in 1996. And yet, barely a year later, Suharto's fortunes plunged when Indonesia was caught up in the financial crisis and protests by students against the government. Suharto fell in 1998, and Indonesia was able to hold its first 'free and fair' democratic elections in 1999.
Democratic elections have brought new leaders to India and Indonesia. In India, Narendra Modi led the Bharatiya Janata Party (BJP) to victory in the 2014 parliamentary elections. In Indonesia, the 2014 direct election led to Joko "Jokowi" Widodo being sworn in as president. The majority of Indonesia's voters saw him as the best choice to replace President Susilo Bambang Yudhoyono, who had been in office for 10 years. In India, Modi, prior to becoming prime minister, had been the chief minister of Gujarat state from 2001. Like Modi, Jokowi's meteoric rise began with success in managing a municipality – Surakarta – and later the special province of Jakarta. Both leaders owe their national success and popularity to the many breakthroughs that they made at the provincial level – to wit, in managing the economy, infrastructure and public services with a hands-on approach.
Both leaders also face significant challenges in garnering support for their policy programmes in their respective parliaments. For Modi, who commands a majority in the Lok Sabha (the lower house, comprising directly elected members), the challenge is the lack of majority support in the Rajya Sabha (the upper house, comprising members who are elected by legislators in state assemblies). As the Congress Party controlled many state assemblies during the decade when Manmohan Singh was prime minister, Modi's prospects of gaining control of the Rajya Sabha depend on the success of his party in state assembly elections. Of course, the results of recent state elections in Delhi and Bihar, where the BJP lost, indicate that he may have a long wait. The consequence has been an impasse in the enactment of important federal legislation, forcing the Modi government to resort to ordinances (emergency executive laws), and to suffer the humiliation of having ordinances lapse when they could not be approved by both houses of parliament.
Of course, unlike India, Indonesia has a presidential system. The Indonesian Democratic Party of Struggle (PDI-P)-led coalition that secured Jokowi's presidency has fewer seats in parliament than the opposition coalition. Jokowi's administration therefore faces the unenviable prospect of wheeling and dealing for support in parliament for its legislative agenda. The difference between India and Indonesia is that the want of parliamentary support for Modi in the upper house is a temporary situation that is likely to be resolved through the very longevity of his government. However, for Jokowi in Indonesia, relations with parliament are endemically difficult because members of the coalition of parties represented in his cabinet have no incentive to support the executive branch unless they are individually persuaded. Unlike Modi, Jokowi has no parliamentary whip on whom he can count to have his way.
Indonesia's constitution is not based on Sharia or Islamic law, even though Muslims were the mainstay in the struggle for the country's independence. Indonesia is, instead, based on Pancasila – that is, five interconnected principles: first, the belief in one god; second, a humanity that is civil and just; third, a united Indonesia; fourth, wise representation of democracy; and fifth, social justice for every Indonesian citizen. More recently, of course, in the aftermath of the peace accord that ended the liberation struggle in Aceh, the province has begun to enforce Sharia for Muslims, and some Sharia-like bylaws have been passed in different localities.
In India, the pioneering Constituent Assembly had to make a similar compromise in the interest of religious pluralism. The demand for a uniform civil code, replacing the separate personal laws of Hindus, Christians and Muslims, was acknowledged by its inclusion in the chapter on the Directive Principles of State Policy, which were declared to be non-justiciable. And apart from amending some provisions of Hindu law, India has wisely left the personal laws of Christians and Muslims untouched, declaring that their reforms must come from representatives of those faiths, and must not be imposed by majoritarian legislation.
The leaders of today's India and Indonesia have not yet met to understand and learn from one another about how to cope with the consequences of Islam becoming radicalized in both of their countries.
Despite the similarities in their personalities and their parcours to power, it is surprising that the leaders of today's India and Indonesia have not yet met to understand and learn from one another about how to cope with the consequences of Islam becoming radicalized in both of their countries. India's first prime minister, Jawaharlal Nehru, and the first Indonesian president, Sukarno, famously sowed the seeds for bilateral friendship. Nehru hosted the first Asian Relations Conference in New Delhi in 1947 to discuss the Indonesian problem. It brought together leaders of Asia's independence movements and was, for all intents and purposes, the first effort to forge Asian unity. Biju Patnaik, future chief minister of Orissa, flew an aircraft to Indonesia to rescue Vice-President Mohammad Hatta and Prime Minister Soetan Sjahrir from the Dutch. He brought both of them to New Delhi to attend the conference. Years later, President Suharto conferred on Biju Patnaik the state honour of Bumiputra.
Nehru went on to host the Indonesia Conference in 1949 to discuss the Dutch aggression on the nascent republic. These two conferences were precursors to the Bandung Conference of 1955, hosted by Indonesia – the first Afro-Asian event where both Nehru and Sukarno invoked the "spirit of Asia" and laid the foundation for the non-aligned movement.
When India's Nobel laureate in literature, Rabindranath Tagore, visited Java in 1927, it seemed as if, at that moment, the two countries recognized an ancient bond and the possibility of a new partnership. Nearly a century later, that partnership has not materialized to the extent imagined. Perhaps most importantly, bilateral relations have not focussed on a mutual quest for a better understanding of Islam. After the recent terrorist attacks in the two countries, it is imperative that a far better and deeper understanding of Islam and its recent evolution should become the top common priority for both India and Indonesia, and should be agenda item number one for a major Modi-Jokowi summit that should happen in the nearest possible future.
Ramaswamy Sudarshan is the Dean of the School of Public Policy, O.P. Jindal Global University, New Delhi.
(PHOTOGRAPH: AP PHOTO / ACHMAD IBRAHIM)