Editors' Brief – Spring/Summer 2016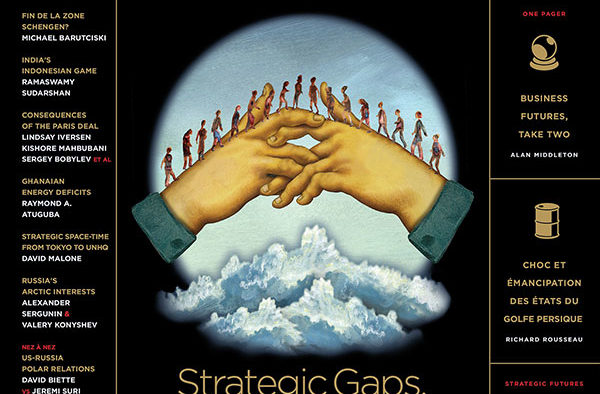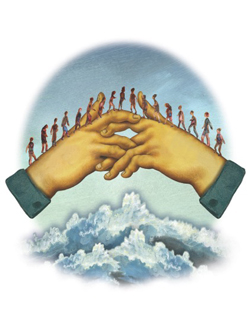 Even when you fill in the gaps, new gaps appear. The stitches between the stitches are the realm of the interstitial – the potential cause of great calamity
GB does not do morality plays. We are much too serious and self-serious for that. Instead, we aim to drive understanding of the world's manifold issues and problems, and to offer solutions wherever our gifted writers see them.
One of the wicked problems in today's international relations is what we might call 'interstitial problems.' In his latest book, Kissinger pushes for a 21st century that includes the construction and refinement of vast regional regimes – legal-political-economic-geopolitical regimes – as a basis for global order or stability. If we consider – to take a major example – the EU regime as having served as the cornerstone for the peace that has reigned in Europe since WW2, then Kissinger's construct seems eminently reasonable.
But what happens to the gaps between the regimes – that is, to those countries, regions and spaces that are not captured by these international regimes? What happens when two or more regimes compete – consciously or unconsciously – for these 'interstitial' spaces? Answer: absent great skill and prudence, considerable damage. The spaces can be torn asunder by the gravitational pulls of the competing regimes, or even become theatres for direct clashes between these international regimes or their member states. Without stitches between the bridges themselves, the bridge-building exercise could well result in the burning of all of the bridges.
Alan Middleton kicks things off in the One Pager, revisiting his predictions for global business futures of five years ago in these pages. In the lead Feature, Fyodor Lukyanov, editor-in-chief of Russia in Global Affairs, explains how the last 25 years were a period of strategic 'anomie' for Russia and why it has assumed an emergency posture to prepare for any eventuality in an international order without reliable institutions. By juxtaposition, former CIA Director John E. McLaughlin outlines what should be America's national strategy (and strategic mindset) from next year, when the new US president takes office. GB Editor-in-Chief Irvin Studin makes the case for a Europe 2.0 framework, built trilaterally between Brussels, Moscow and Kiev – Ukraine being the world's leading interstitial problem – as the only way to secure a long-term European peace, and as logically prior to the world having any chance of taming the growing chaos in the Middle East. Richard Rousseau of the UAE's American University of Ras Al Khaimah examines the various pressures and survival strategies of the monarchies of the Persian Gulf as they struggle to reckon with the sliding price of oil. Lastly, Irvin Studin advances ten theses on Canadian foreign policy for this early new century.
In Tête à Tête, GB sits down with Andrew Coyne of the National Post to discuss the recent Canadian federal election and the strengths, weaknesses and challenges of the new prime minister (Trudeau) and his government. GB also breaks bread with David Malone, rector of UN University in Tokyo, to better understand the strategic pressures on Japan, India and even the UN system as the search for the next Secretary General enters its final stages. (Long-time GB readers may wish to look back at our interview with the recently departed Boutros Boutros-Ghali in the Fall 2010 issue.)
In Query, Alexander Sergunin and Valery Konyshev of St. Petersburg State University outline Russia's interests in the Arctic. GB Associate Editor Michael Barutciski then asks whether the EU's Schengen experiment has had its day, and considers what may need to happen to rescue it.
In Nez à Nez, David Biette of the Woodrow Wilson Center's new Polar Initiative debates Jeremi Suri of the University of Texas at Austin on the merits and demerits of the US deeming Russia a friend (or foe) in the still peaceable Arctic theatre.
In The Definition, GB assesses the practical consequences of the recent Paris climate deal. Lindsay Iversen of the US Council on Foreign Relations, Kishore Mahbubani of Singapore's Lee Kuan Yew School of Public Policy, Sergey Bobylev of Moscow State University, and Roger-Mark De Souza of the Woodrow Wilson Center in Washington DC variously weigh in. In Strategic Futures, Dalhousie University's David Black, Carleton University's Elinor Sloan, and the University of Ottawa's Thomas Juneau tell us where Canadian foreign policy, new government oblige, may be by the year 2020.
In Situ reports come to us from O.P. Jindal Global University's Ramaswamy Sudarshan in New Delhi and also Jakarta, as both India and Indonesia struggle with Islamist violence, as well as from the University of Ghana's Raymond A. Atuguba in Accra in the context of Ghana's notorious energy struggles. GB is in Panama's Cabinet Room to listen in on comparisons between the newly expanded Panama Canal and competing arteries like the Northwest Passage, the Suez Canal and the Strait of Malacca.
George Elliott Clarke, newly appointed Canadian parliamentary poet laureate, closes the book in Epigram.
Enjoy your Brief.