Happy 10th Anniversary, Global Brief Magazine!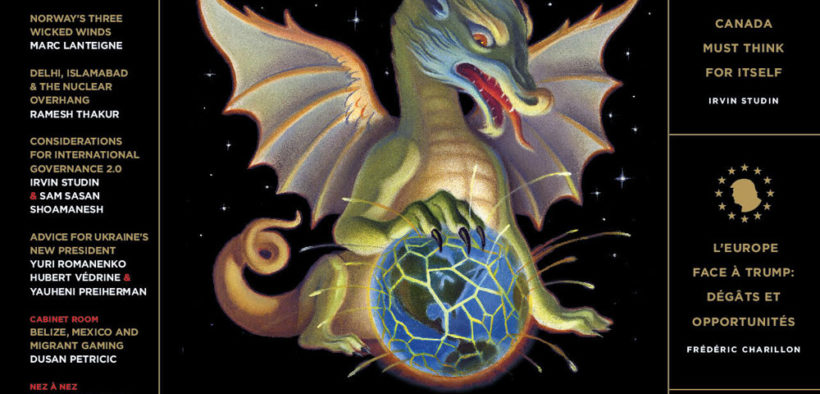 Welcome to GB's new site! We hope you love it, wherever you are in this big world.
Our team has worked extremely hard to make this new site compelling and interesting – with new aesthetics, new videos and micro-lectures, a new complement of top-tier GB Geo-Bloggers in multiple languages, a full display of GB's award-winning art, curated by GB art director Louis Fishauf, and perfect integration with all of the leading social media platforms. Hats off to the terrific team at Helios Design Labs for delivering on a very complex project.
Watch for the big 10th anniversary issue of our flagship print magazine in the coming few weeks – with subscribers around the world, in stores in half a dozen countries, and in Air Canada Maple Leaf lounges in leading international airports. Subscribe today. Advertise. Donate. Spread the good word. And our sincere thanks to our readers, writers, artists and fans for your support and attention over these many years.
GB's archive of content over the years is very big. We are extremely proud that it has been used in classrooms on all continents, and that it has influenced the thinking and problem-solving on some of the major debates and problem-solving exercises of our time. Please explore this content, test it, use it, and share it as you see fit.
Finally, we are delighted to announce, as part of the celebration of GB's first decade, a national mini-conference for Canada on a future national plan for the Canadian Arctic – a theatre as big as the entire EU, at the intersection of continental North America, Russia and Eurasia, China and Northeast Asia, and Europe. This mini-summit takes place on July 26th in Toronto at the Faculty Club, University of Toronto, and is co-organized and hosted by our very own Institute for 21st Century Questions (21CQ) and the Government of the Northwest Territories. Bob McLeod, Premier of NWT, will be sharing some important visionary notes for Canada, and the entire event will be moderated by Jean Charest, former Premier of Quebec and Deputy Prime Minister of Canada.
Enjoy your Brief!