"The leading company in 2020 will be…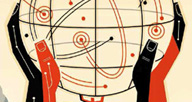 Walid el-Gabry
…a US company – still. US companies have dominated the past century because of their success internationally. While the US unemployment rate remains relatively high, cash-rich corporate America is recruiting rapidly overseas. And in the search for growth markets, where the demographics of younger, upwardly-mobile consumers are more favourable, US companies are becoming more multinational than ever before. What they bring to the table is an institutional history in which the marketplace of ideas can thrive.
I am not thinking of those companies that continue to be rigidly American overseas. That kind of myopia will not work, and the branch plant idiom no longer suffices. Tomorrow's leading companies are those that are embracing diversity and local initiative. Necessity is the mother of invention, and trying to sell products or services in a different culture requires input from people on the ground. US companies have traditionally been the most successful in this respect – particularly consumer companies like Procter & Gamble and PepsiCo. They have had a long journey of trial and error in various parts of the world, and now local talent is being encouraged to create products that go on to succeed on a global platform. Tomorrow's internationally popular soft drinks or soaps are therefore more likely to originate from R&D in Asia or Brazil than from the US or Europe.
Regulation also forces companies to think in new ways. Engine-maker Cummins has profited from environmental controls around the world by customizing for different markets – becoming an integral supplier to manufacturers who want to leapfrog years of expensive engineering. But that is only possible because of its established international parts and service support network.
Innovation, which enables companies to stay ahead of their competition, can also spring from vision. Successful technology companies like Microsoft and Apple built on ideas from elsewhere – IBM and Xerox, to begin with – but let imagination lead them even further.
The best technology is the kind that your grandmother can use with ease. The successful company is the one that makes the most widely acceptable product, delivers it with quality, and also provides backup. There is no monopoly on ideas. Added value can come from the insight of people around the world. And US companies have proved to be the most adept at harnessing this crucial ingredient of companies' success."
» Walid el-Gabry is an international business journalist who has worked for the Financial Times, Thomson, Dow Jones and Bloomberg News.
Edward Waitzer
…a firm – not necessarily in existence today – that invests, gets to scale, and consolidates in the life sciences technology field: in medical robotics, genetics, stem cell research, custom-made organs, bioinformatics. We are on the cusp of knowledge breakthroughs in a wide range of issues relating to the human condition. Someone will pick up enough of the pieces to become the most important enterprise – and spawn a host of others.
Looking at the incumbent players, my standby choice would be Google – simply because of its cultural commitment to data and ambitious ideas. Few compete with it when it comes to its willingness to tackle seemingly insoluble challenges with deep pools of capital (defined broadly) and technology. It remains a leader in removing traditional boundaries around the mission of the corporation, and it remains always steadfast in its commitment to change the world."
» Edward Waitzer is a senior partner of Stikeman Elliott LLP, a professor and the Jarislowsky Dimma Mooney Chair in Corporate Governance and Director of the Hennick Centre for Business and Law at Osgoode Hall Law School and the Schulich School of Business, York University. He is a former Chair of the Ontario Securities Commission.
Jack M. Mintz
…a food producer and processor that will benefit from escalating agricultural commodity prices. With arid weather in parts of the world, and growing demand from middle-income and highly populated economies, food shortages and rising prices will be common. At the top is the largest food company in the world – Switzerland's Nestlé – with a market capitalization in the area of US $200 billion. With the new technologies for which the company is known, it is well-placed – through organic growth and acquisitions – to be a dominant global corporation."
» Jack M. Mintz is the Palmer Chair and Director of the School of Public Policy, University of Calgary. He serves on the Economic Advisory Council of Canada's Minister of Finance.
Robert Greenhill
…harnessing human ingenuity to address humanity's great challenges. It will not be the best known or richest corporation in the world. It will not be based on social media or the cloud: both of these will have matured by then. It will be pushing the frontiers of life and the enjoyment of life: organ regrowth, cerebral ageing or game-changing approaches to renewable energy.
Its importance will be based on what it creates, not what it controls. Its core resource will be talent, not capital. It will be globally networked, linking research institutions, governments and private corporations into a virtual corporate superpower. It will be young and small – global from the get-go. It will be open, fast, and passionate in its ability to change the world."
» Robert Greenhill is Managing Director of the World Economic Forum. Previously, he was President of the Canadian International Development Agency (CIDA) and President of the International Group of Bombardier Inc.
(Illustration: Harry Campbell)