"For Africa, the new SDGs…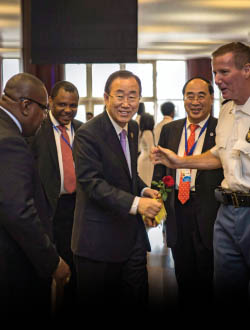 Obiora Okafor
…represent a significant step forward, in many respects, and a disappointment in some other respects. This is often the way in which that vast continent encounters international law and policy.
For example, most Africans (and non-Africans too) will find SDG1, which aims in part to eradicate extreme poverty by 2030 (in 15 years) – "for all people everywhere, currently measured as people living on less than $1.25 a day" – to be quite heartening and significant. The almost radical leap forward will be the turn toward ending rather than just ameliorating poverty – however limited the relevant definition.
Most Africans (and other peoples) will also identify strongly with another sub-objective of SDG1 – to wit, to reduce by 2030 "at least by half the proportion of men, women and children of all ages living in poverty in all its dimensions according to national definitions." Many of the other SDGs will be similarly well received as ambitious and meaningful statements of global institutional intent which, if implemented, will greatly transform the world in which we live and bring great benefit to Africans and non-Africans alike. In this vein, let me note SDG2 on zero hunger, SDG4 on quality education, SDG5 on gender equality, SDG6 on clean water, and SDG16 on peace/justice and strong institutions.
Yet aspects of the SDGs must give any discerning observer of the career of international development politics, policy and law – especially as it has related to the African continent – significant pause. For one, the failure yet again to include any meaningful mechanisms for holding the relevant actors accountable for delivering the resources, without which almost all of these ambitious goals cannot be achieved, is most disappointing – to say the least. That this occurred despite a laudable effort in the report of the UN Secretary-General that provided the main conceptual framework for the negotiation of the SDGs to push for such international accountability mechanisms is even more disappointing.
Platitudes about the need for greater international partnerships, which have occupied the international development literature and airwaves for over half a century, cannot force the relevant states to deliver on their ambitious promises of providing capital, technology and human resources, and opening their markets (especially in the agricultural sector) to the African (and other) countries that may need them. Of course, such platitudes about the need for accountability were perhaps, in the end, all that could be agreed upon among so many interested parties and stakeholders."
» Obiora Okafor is the York Research Chair in International and Transnational Legal Studies at the Osgoode Hall Law School, York University, in Toronto. He also serves as the Chair of the UN Human Rights Council Advisory Committee.
François Boutin-Dufresne
…signifient d'abord la gestion de la croissance de la population. Avec des ressources financières et géographiques (eau, territoire, nourriture) limitées, une population en forte augmentation accentuera les crises sociales et empêchera une amélioration du niveau de vie per capita. Même une croissance hypothétique de l'aide internationale ne saura suivre les coûts économiques, sociaux et humanitaires d'une population en forte croissance.
D'ici 2050, le quart de la population mondiale sera en Afrique, soit 2,5 des 10 milliards d'habitants que comptera la planète. Malgré tous les développements dont le continent a pu être témoin au cours de la dernière décennie, il reste que la croissance économique sera insuffisante pour subvenir aux besoins minimaux et aux aspirations d'une population africaine en forte augmentation. Tout développement dit «durable» devra tenter de remédier à cette problématique de long terme si on souhaite obtenir des résultats dans un avenir prévisible».
» François Boutin-Dufresne est Stratège, Économie et Marchés Mondiaux, chez Pavilion Global Markets, à Montréal. Il était auparavant économiste au département Afrique du Fonds Monétaire International à Washington, DC.
Abdoul Aziz Mbaye
…will build on the important strides that the continent has made toward achieving the original Millennium Development Goals (MDGs), recently replaced by the SDGs.
The continent is today host to some of the fastest growing economies in the world, with a burgeoning private sector that attracts investment from Asia, Europe and North America. Kenya, Nigeria, Ethiopia, the Democratic Republic of the Congo, Côte d'Ivoire, Rwanda and Mozambique are cases in point. Other countries like Senegal have embarked on ambitious nation-building projects to improve their economies, build key infrastructure, and prepare their nations for the opportunities and challenges of the 21st century.
An increasing number of Africans today are enjoying higher standards of living. Poverty and maternal and child mortality rates have been on the decline in a number of African states. In Ghana, for instance, the percentage of undernourished people has dropped by 74 percent since the early 1990s, while Nigeria has substantially increased its food production to feed its 182 million-and-growing population. Similarly, the number of children who die before the age of five on the continent has been reduced by over 20 percent since over a decade ago. These are all promising signs, even if there are – to be sure – many gaps that remain.
The continent's greatest asset is its significant young population. Proper investment in this critical resource is vital to the continent's future. While there has been progress in ensuring that African youth have better access to education – in Kenya, Burundi, Tanzania and Zambia – regrettably, millions of children across the continent continue to be denied access to this fundamental service, or are otherwise out of school, working to sustain their families. This challenge is especially evident in Sub-Saharan Africa. Gender inequality and gender disparities in education and work present other challenges. These difficulties combined, if left unaddressed, will keep Africa down, preventing it from capitalizing on the great human potential, innovation and energy of the continent's full population.
We may not have yet reached African renewal, but the necessary journey to such renewal has certainly begun. An era in which the world pivots to Africa is possible, but its emergence starts with the actions of Africans themselves."
» Abdoul Aziz Mbaye lectures at Cheikh Anta Diop University in Dakar, Senegal, and is a lawyer working at the International Criminal Court (ICC). The views expressed herein are the author's alone and do not necessarily represent the views of the ICC.
(PHOTOGRAPH: THE CANADIAN PRESS / AP / MULUGETA AYENE)