2015 Will be a Seminal Year for Myanmar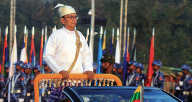 For better or for worse… The country's transition remains ambiguous, and its trajectory has not yet crystallized
Myanmar, still widely known as Burma in international circles, is in the midst of a historic transition after five decades of outright military rule. Yet as the country prepares for an election required by the end of this year, there remains an open debate as to where things stand and where the country is heading. Even with Nay Pyi Taw's recent moves toward democracy, economic reform, and international engagement, it is difficult to conclusively identify the country's turning point away from military authoritarianism, or in fact to determine whether this point has even been reached.
The year 2008 was important because a new constitution ending full military control was adopted. Then 2010 saw national elections that were boycotted by the major opposition party but otherwise resulted in an elected new civilian administration, with President Thein Sein coming to power in 2011. In 2012, by-elections saw the National League for Democracy (NLD) of Nobel Prize winner Aung San Suu Kyi participating and ultimately winning to form the parliamentary opposition party. In 2013, a peace process to resolve decades of widespread insurgency by ethnic minorities gained pace. The economy, long stalled by socialist policies and international sanctions (lifted in 2011), started to grow rapidly: at 7.8 percent in 2014, with a similar growth rate expected in 2015.
This year will be seminal for Myanmar, with a great deal at stake for the country's political direction and internal stability. This will be the year when the many dynamics brewing over the past decade either converge toward sustained positive change, or else leave the country in a restrictive status quo. For optimists of the country's transition, 2015 promises to bring together events critical to setting the country's long-term path: national elections that are free and fully contested; a peace process with a formal path to a final settlement built on constitutional reform; and an economy further opened through the creation of the ASEAN Economic Community. For critics of the current government, however, if they are not fully free and fair, then the November elections will entrench a superficial reform process (and with it a suspect legitimacy) primarily benefiting the country's military-based elite. While there is now a civilian president and a parliament primarily composed of directly elected representatives, Myanmar's government remains at best 'semi-civilian,' given the military's automatic control over 25 percent of seats in parliament and total control over key ministries, including home affairs and defence. Many analysts fear that this semi-civilian paradigm will not soon change.
Since assuming power in March 2011, President Thein Sein, a retired general who was a senior-ranking official in the previous junta, has implemented a raft of dramatic political and economic reforms. After decades of military authoritarianism shaded by socialist policies, a clear priority for Thein Sein's government has been growing the economy of Southeast Asia's poorest country by opening it to foreign investment and starting to privatize state enterprises. Following decades of sanctions and international isolation, Myanmar's economy is at last expanding.
Another priority has been the implementation of decentralization reforms in order to overcome the legacies of what had been a highly centralized state built around surveillance and control of the population. While limited, this decentralization push saw the establishment in 2012 of 14 governments for all of Myanmar's states and regions. These subnational governments have executive, legislative and judicial branches – something novel for a country previously defined by the rigid hierarchy of military authoritarianism. Decentralization is seen by Thein Sein as crucial for both improving social service provision at the local level as well as boosting economic growth. Decentralization is also an attempt to accommodate Myanmar's remarkable demographic diversity through greater local participation and governance: Myanmar's population stands at approximately 51 million, with dozens of ethnic minorities.
A third priority reform area for Thein Sein has been the intensification of efforts to resolve over a dozen insurgencies by ethnic minorities mostly spread along Myanmar's mountainous eastern periphery. Many of these insurgencies have raged since the country's independence in 1948, and have pitted ethnic armed groups, often seeking secession or at least significant autonomy, against the Myanmarese army and a range of proxy militias. Current peacebuilding efforts have centred on signing individual ceasefire agreements with ethnic armed groups amid plans for a comprehensive national ceasefire in 2015 – one that could subsequently lead to an extended peace process. Though many ceasefires have been brokered over the past several years, fighting continues in Kachin and Shan states near the Chinese border. While no ethnic armed groups now demand secession, they are nearly unanimous in calling for a federal system – something that would require major amendments to the current constitution, or even a new one. In an unprecedented move, the Thein Sein government and the military have both acknowledged that some species of 'federal' system must be established, and that the constitution will, to this end, require significant changes.
Despite the stated reform intentions of the Thein Sein government, the country has also suffered a number of setbacks: the pace of reform is slow at best, and decidedly uneven. Political reforms, for instance, have not progressed in the manner that the NLD, as well as many other smaller parties and much of civil society, would like. The Union Solidarity and Development Party, the military-backed party that forms the government, has refused to amend the constitution in order to reduce or end the military quota in parliament before the 2015 elections. The government has also refused to rescind the clause in the constitution that effectively bars Aung San Suu Kyi from ever ascending to the presidency. For her part, Aung Sang Suu Kyi has repeatedly rebuked the West and regional neighbours for being naïve about the pace and depth of reform, citing military control and repressed press freedom as tell-tale signs that change is still superficial in many ways. She has pressured the government by declining to declare whether the NLD will even stand in the 2015 elections. At the same time, she has clearly stated that she does not want international sanctions – particularly by the US and the EU – to be reimposed on Nay Pyi Taw. At this point, to do so would do nothing to catalyze political reform or the wider transition.
In terms of economic growth, there are also significant challenges facing Myanmar. The economy, which is based on agriculture and a rural population, has so far largely enjoyed the easy wins of simply opening up and the easing of sanctions. Sustained, deeper growth is still lacking, and outside of Yangon – the largest city and commercial centre – the appearance of change is muted. A large proportion of the country's economic prospects are dependent on the development of offshore natural gas fields. As such, economic growth is challenged by the recent severe drop in global energy prices, as many of the offshore gas fields are simply uneconomical at current prices. Moreover, past socialist economic planning means that revising economic governance to be more business-friendly will prove a massive undertaking. The World Bank's 'Ease of Doing Business' rankings for 2014 placed Myanmar 177th among 189 countries. While some sectors, such as telecoms, have seen remarkable transformation, others remain archaic and in need of complex, extensive reforms – particularly the financial and banking sectors.
The mood of Myanmar's public remains mixed – overall hopeful, but decidedly cautious. A recent public perception survey by The Asia Foundation found that a majority (62 percent) report that the country is moving in the right direction. A significant number (68 percent) believe that the 2015 elections will be free and fair. Progress for most of the population is defined by the quality of life improvements that come from sustained economic growth; jobs are a clear priority. Other simpler signs of change, such as the construction of new roads, are also significant for the national psyche. Myanmar's citizens endured 50 years of military authoritarianism, with stunted social, political and economic development. Slow but steady therefore seems to be the mantra shared by a public that has minimal expectations but is still hoping for the best. Nevertheless, it is clear that doubts linger and that many Myanmarese still question the sincerity of the government to deliver meaningful change. Recent elections to Yangon's municipal government, for instance, saw turnout at only a quarter of eligible voters – a worrying sign of skepticism in action.
Amid violent upheavals elsewhere in the world – from the Middle East to the former Soviet space – Myanmar's transition has been characterized by some commentators as a "revolution without losers." While there may be a democratic opening and an expanding economy, the military is still getting everything that it was looking for when it designed the new constitution: economic growth and international acceptance for the state, and sufficient political control over it all to feel comfortable and secure. Overcoming this basic reality in a manner that does not provoke a coup is the central challenge facing the country. The country's near future remains uncertain. By the end of 2015, things will be much clearer – for better or worse.
Matthew B. Arnold is Program Director for The Asia Foundation in Myanmar. The views expressed herein are his own.
(PHOTOGRAPH: THE CANADIAN PRESS / AP / GEMUNU AMARASINGHE)