To End the Use of Child Soldiers Look to the Security Sector
Nota bene: This piece was co-authored with Dr. Shelly Whitman, the Executive Director of the Child Soldiers Initiative.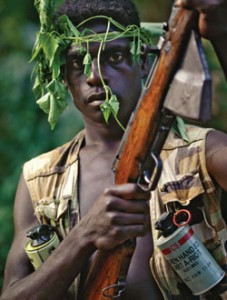 While new wars bear a frightening multitude of distinct characteristics, there is perhaps no more grotesque hallmark of 21st Century conflict than the growing involvement of children in political violence and war. If in the past children were made to fight in spite of their youth, they are now being made to fight because of their youth.
The Paris Principles definition of a child soldiers is "… any person below 18 years of age who is or has been recruited or used by an armed force or armed group in any capacity, including but not limited to children, boys and girls used as fighters, cooks, porters, messengers, spies or for sexual purposes. It does not only refer to a child who is taking or has taken a direct part in hostilities." This definition recognizes the multiple roles children undertake and stages of their childhood in which children are engaged with armed forces and groups.
The deliberate use of children by armed groups is predicated upon their agility, impressionability and underdeveloped sense of morality, children bestow strategic and tactical advantages to those commanders willing to use them. While state forces are still engaged in modern conflicts, the field of battle has become vastly more complex. Modern conflicts are unique due to the extensive presence and deliberate tactical use of child soldiers. Conflicts where child soldiers are engaged tend to be longer and more severe- demonstrating horrific abuses of human rights and brutal violence.
The international community's reaction to this disturbing phenomenon has been largely reactive; focusing upon disarmament, demobilization and reintegration of child soldiers only after conflict has subsided. The global discussion surrounding child soldiers is most often directed toward generic child protection strategy. By framing the issue of children in armed conflict as a specific priority concern for those engaged in creating and maintaining peace and security, we can empower those actors to develop better policies and strategies to not only limit or prevent child soldier recruitment, but to improve security sector interactions with children during actual armed conflict, with the ultimate aim of avoiding fatalities on all sides – the child and the peacekeeper.
If armed groups led by adults are willing to recruit and use children to fight their battles, it is not a far step to picture the number of other human rights abuses they will commit to achieve their goals. As such, the recruitment of children as weapons of war points towards larger, systemic issues. This includes the breakdown of a country's social fabric or institutions and implies the long-term, generational aspect of the conflict and the possibility of future mass atrocities. We need to be prepared to recognize the recruitment and use of children as soldiers as a key early warning indicator that is deserving of appropriate attention.

The Roméo Dallaire Child Soldiers Initiative (the Dallaire Initiative) aims to progressively eradicate the use of child soldiers, through a preventative security sector approach. The Initiative believes that the international solution to the issue of children used as weapons of war must include the security sector. By developing tactics and strategies that counteract the ways in which child soldiers are used by armed groups, we remove the strategic advantage that armed groups associate with their use. To develop these tools, a multifaceted approach incorporating rigorous research, high-level advocacy and in-class and scenario-based training must be taken. The abuse of children as instruments of war is a reality that cannot be resolved on the day you face them in the field. It takes preparation and preparedness that recognizes the practical realities faced.
To further illustrate the need for preparation by the security sector, it must be understood that when child soldiers are deployed against a professional armed force, they present a new set of dilemmas. For instance, if a security sector actor were reluctant to return fire against a child, and this reluctance results in a colleague's death, he or she may be blamed for the casualty and their professionalism questioned. On the other hand, if he or she were to return fire, thereby killing a child soldier, they may return to base only to be stigmatized as a child killer by the community, their peers and in their own mind. It is for this reason that doctrinal guidance and clear preparatory training on the subject of interacting with child soldiers may effectively cede the strategic advantage of using child soldiers by opposing forces.
The international community is beginning to recognize the need for the security sector to be included in the solution on child soldiery. On March 7th, UN Security Council Resolution 2143, which the Dallaire Initiative played a role in its early drafts, stipulated the critical importance of "providing military, police and civilian peacekeepers with adequate pre-deployment and in-mission training on mission-specific child protection issues." Further to this, UN Sec Res on Sec. Sector Reform 2151—the first stand alone resolution on this topic passed by the United Nations Security Council—encourages nations rebuilding after conflict must take appropriate measures to protect children and ensure security sector actors are well equipped to do so.
Failing to incorporate the security sector in the solution on the recruitment and use of children will precipitate renewed conflict and the continued use of children as weapons of war. The inclusion of the Dallaire Initiative's training of security sector actors contributes to a holistic global prevention strategy. By relegating children as a "thematic priority" that is separate from overall security sector reform and conflict prevention efforts, the international community dooms itself to piecemeal solutions.
We need to focus on protecting children in times of peace and not wait until war erupts to witness the abuse of children. If we can tackle the problem of child soldiers, country by country, and complement already existing efforts on the social, economic and development fronts, we can create momentum that will lead to tangible change. Until today, the international community has appeared to be more interested in addressing the symptoms of new wars, rather than diagnosing those challenges that actually qualify a war as being "new." If we are to collectively triumph over these threats, we must empower the security sector to assist in addressing the root causes of violence and this includes incorporating children into the broader agenda of achieving peace and security.
____________________________________________________________________________________
(Photograph: George Steinmetz/Corbis, Alex Smailes/Sygma/Corbis)
The opinions expressed in this blog are personal and do not necessarily reflect the views of Global Brief or the Glendon School of Public and International Affairs.