"In 2020, the DRC…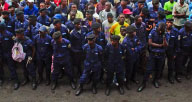 Calestous Juma
…will be on a new path toward economic renewal, having endured decades of war and centuries of instability. The road to such a future must commence now through the containment of armed conflict, followed by the election of competent leaders who can focus on laying the foundations for economic growth. The DRC epitomizes Africa's centuries of suffering. Violence, going back to the brutal Belgian colonial rule, continues to haunt the country. Internecine wars have claimed more than 5.5 million lives in the last decade alone.
The most immediate task for the DRC is to bring peace to the country – especially in the more troubled eastern part of the country. It is in the interest of neighbouring countries working through the relevant regional bodies, as well as the African Union (AU) and the UN, to help bring peace to the region. Little will happen without robust regional and international efforts to press for peace. Peace in the DRC should pave the way for free and fair elections in 2016. The next government should have legitimacy at the national, regional and international levels. But equally important is leadership that has the competence and acumen to help the DRC to transition from peace to nation-building and development. A more technocratic and accountable leadership that can address critical issues related to the management of the country's vast natural resources is a must. The DRC is an ethnically diverse country, and a variety of compromises would need to be made.
The post-election era will require economic construction. Much of this will start with building essential infrastructure needed for growth – especially in transportation, energy and in telecommunications. The World Bank estimates the DRC's infrastructure needs at over US $5 billion a year over the next decade. After all, the country is the size of Western Europe, but has only 2,800 kilometres of all-weather paved roads running through it. This is about the same as Rwanda's networks of roads – even if Rwanda is some 90 times smaller than the DRC. The DRC also has extensive potential navigable waterways that need to be developed. And massive investment in air transportation infrastructure could make the country a hub for the rest of Africa, given the DRC's geographical centrality on the continent.
Of course, this same geographical centrality means that stabilizing the DRC is key to the future peace and prosperity of the rest of the continent. The road ahead is long and rugged. But with peace, competent leaders, investment in infrastructure and regional integration, the DRC will put itself on a path to prosperity by 2020. An alternative path is too horrible to contemplate."
» Calestous Juma is Professor of the Practice of International Development at the John F. Kennedy School of Government, Harvard University, and co-chair of the African Union's High-Level Panel on Science, Technology and Innovation. He is the author of The New Harvest: Agricultural Innovation in Africa.
John C. Bradshaw
…will still have many major problems that are not fully resolved or fixed. However, with the right mix of initiatives that address fundamental economic and governance issues, positive scenarios are possible. If led by responsible Congolese reformers in both government and civil society, and creatively supported by regional and international actors, the DRC could, by 2020, be in the midst of a hopeful transition period.
A key turning point could come this year if a broad and comprehensive peace process to address the root causes of crisis in eastern Congo replaces the kind of stop-gap power-sharing arrangements that have perpetuated cycles of conflict in the region since the early 1990s. As this process moves beyond a focus on
short-term security and stability, a comprehensive regional peace agreement could take shape and be finalized by 2014. A successful peace process would be based on shared economic development and investment for regional stakeholders – including infrastructure development and legitimate, conflict-free resource extraction. It would be far more inclusive than past regional processes – creating an intra-Congolese dialogue to address
long-standing flash points like decentralization, protection of minorities, land tenure, refugees and electoral reform.
Under the regional peace accord, full-scale conflict in eastern Congo will come to an end by 2020, regional politics will be demilitarized, and the international community, led by the UN, will carry out a reform and reconstruction initiative. That initiative will assist in the building of institutions in the east, and cement a political framework that provides more autonomy to local lawmakers and leaders. After 2020, the plan is for that political framework to be codified into law in Kinshasa, and used as a model for democratic transformation and institution building throughout the country.
In the east, under this scenario, dividends from the past six years of peace in North and South Kivu provinces are taking shape as infrastructure development, justice sector reform, and security sector reform are becoming institutionalized in the provincial capitals of Goma and Bukavu. Significant progress in livelihood development and economic diversification will also be apparent in the eastern provinces. This will take place under a framework for regional economic integration in the extraction and processing of minerals, oil, gas, timber and other natural resources – a framework also created by the 2014 comprehensive regional peace accord. The centrepiece of this regional economic integration model will be a legitimate, conflict-free mineral supply chain that links eastern Congo's vast mineral wealth with processing, transport and export businesses in neighbouring countries and throughout the region. Yet, despite all of this progress in the minerals sector, smuggling continues – especially in gold – and efforts continue to completely stamp out armed groups funding themselves through conflict minerals. Mines across eastern Congo are now becoming industrialized, which is an improvement on illegal exploitation – although it has, to be sure, promoted some corruption.
While this is an admittedly optimistic scenario that faces numerous obstacles to becoming reality, it is premissed on initiatives that are already underway, and is born of a recognition that both Congolese and international actors are eager to break the cycle of violence that has so long plagued a country so rich in potential."
» John C. Bradshaw is Executive Director of the Enough Project.
Gwendolyn Mikell
… could have one of the following two futures. Trusting that human societies will ultimately move in directions that reflect their own interests, stock is placed in the second one. The first future is one that has been much bandied about in the press of late. It reflects international pessimism about whether the DRC can move out of its present condition as a 'failed state,' site of ethno-nationalist conflicts, and of lengthy, unproductive UN peace missions, without some external intervention that divides it into smaller, more governable states. The idea is that these mini-states would be composed of groups that share stronger primordial interests, or that are more likely to govern based on an ideal of the common good and the recognition of human rights and the rule of law. This future may be rejected. For despite early disputes and negotiations, states have been hesitant to break the principle enshrined in paragraph 3, article III of the 1963 Charter of the Organization of African Unity (OAU) to "respect the sovereignty and territorial integrity of each State" – as that state existed at colonial independence. These early territorial disputes between member states of the OAU – today's AU – were resolved in ways that strengthened the monitoring and conflict resolution mechanisms of the OAU, and created stare decisis on the ground. Now, poach as they might on the land and resources of a weakened DRC, the surrounding states are unlikely to try to carve off pieces in order to incorporate them into existing or new political entities.
The second future – more complex, yet more realistic – is that 21st century pressures will force state, regional, continental and global actors to do what must be done. This means that key African constituencies – in this case, the AU and the East African Community (EAC) – as well as the international community, will begin to understand that it is in their interests to assist the DRC to become a functioning sovereign state such that the continent may avoid conflict and chaos for decades to come. Of course, this will not be a simple, naturally occurring process, given that each constituency is currently acting selfishly. Rather, it is likely to be the result of escalating pressure from civil society using the nomenclature of human rights to demand economic transparency about DRC resources and about the failure of the state to exercise its governance responsibilities to limit 'ethnic entrepreneurs' like M23. It will also require pressure from regional organizations that have greater governance resolve because they refuse to allow random militaries or external commercial and power players like the Eurasian Natural Resources Corporation (ENRC) to literally consume the DRC from within. And, to be sure, it will require pressure within international organizations like the UN. Finally, it will require pressure from a more confident AU – one that acquires greater conflict-resolving capacity if enabled by its international partners."
» Gwendolyn Mikell is Professor of Anthropology and Foreign Service at Georgetown University.
(Photograph: The Canadian Press / AP / Melanie Gouby)