Editors' Brief – Spring/Summer 2013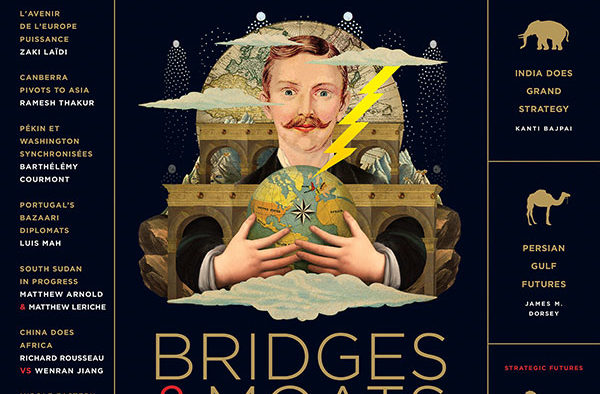 The open mind creates the bridge, the closed one the moat
Promiscuity is strategically good, and the opportunities – and duties – for learning in the West, the East and the interstitial world are growing
The East, even if not as a totality, is not only rising, but is far more strategically and intellectually promiscuous than today's West. This is to its net advantage. It is taking lessons with and from whichever dance partner will requite its seductions, constantly revising its mental maps and torquing its toolkit in preparation for the next go-around. The advanced West has to date often been the preferred dance partner. But it is not altogether clear that the West has been seriously studying the East even as the two tangoed. Why would it? The West was more advanced. What did it have to learn?
This issue is not a hagiography of Eastern promise and energy. Its compass is far more modest. Instead, it is a 'promiscuous' survey of what East can teach West (if West is open-minded), and what West can still teach East (if East is willing to reinvent its systems). Indeed, this issue posits that some of the most important lessons from East and West alike will be learned in theatres that are not, strictly speaking, aligned with either pole – to wit, in 'voyeur' theatres that are in transition, and for which the strategic and intellectual telos and vocation have not yet been made plain. These 'voyeur' theatres are Latin America, Africa, the post-Arab Spring Middle East, and the vast post-Soviet space. This issue of GB is first and foremost for them.
Parag Khanna, director of the Hybrid Reality Institute, fronts this number in the One Pager, making the case for the apparent rise of so-called 'info-states' as a possible 21st century 'sweet spot' for governance – somewhere between the ideal-types of popular democracy and authoritarian technocracy. In the lead Feature, GB Editor-in-Chief Irvin Studin argues that today's 'Eastern' governance, rooted in algorithmic logic, is in some cases no less legitimate (although perhaps more inherently unstable) than 'Western' governance, rooted in argument and reason, and that the lessons distilled for 'voyeur' regions very much depend on time and place and circumstance. Kanti Bajpai of Singapore's Lee Kuan Yew School of Public Policy shows that India, for all of its internal messiness, does have a tradition of grand strategy, and that so-called 'neoliberals' are now in the ascendant. Former New York Times dynamo James M. Dorsey assesses the various futures of the Persian Gulf theatre in the context of the region's precarious monarchies and republics. Barthélémy Courmont sees indubitable political 'mirroring' and intensifying political interdependence between Beijing and Washington DC, as Xi Jinping takes the helm in the Middle Kingdom and Obama's second term gets started. Finally, Australian National University's Ramesh Thakur reflects on whether Canberra really means business in its vaunted pivot to Asia.
In Tête à Tête, GB sits down with Dominic Barton, global head of McKinsey & Company, in order to better understand the psyches of the business leaders who are plying their trade globally, but who nevertheless bring with them cultural and intellectual instincts and gifts that are peculiar to different parts of the globe. GB discusses the strengths and weaknesses of Latin America's variegated economic and commercial picture with Peru's Hernando de Soto, president of the Institute for Liberty and Democracy. In Query, Sciences Po's Zaki Laïdi explains why European grand strategy may never happen. Canadian analyst Sven Spengemann sees a desperate need for individual agency and heroism – both at the leadership and citizen-activist levels – in order to condition the course of the post-Arab Spring Middle East and North Africa such that it avoids the worst possible political and societal excesses. In Nez à Nez, Richard Rousseau of the Azerbaijan Diplomatic Academy and the University of Alberta's Wenran Jiang debate whether Beijing's 'pivot to Lagos' is a good thing for Africa. In The Definition, we ask international consultant Mariama Conteh, Mohamed Kheir of the Office of the UN High Commissioner for Human Rights, and the Wilson Center's Steve McDonald to tell us whether the African Union is up to the job of stabilizing Africa. In Strategic Futures, Calestous Juma of Harvard's Kennedy School, John C. Bradshaw of the Enough Project, and Georgetown University's Gwendolyn Mikell imagine the Democratic Republic of the Congo in 2020. In Situ reports come to us from Matthew Arnold and Matthew LeRiche in Juba, South Sudan, where much work clearly remains to be done, even if things are not as bad as they appear; and from Luis Mah in Lisbon, where a young coalition government is recasting its diplomatic class as travelling salesmen. GB visits Hanoi's Cabinet Room to mark the moment that Vietnam's population passed the 90 million mark. Douglas Glover concludes in Epigram.
Enjoy your Brief.