Editors' Brief – Spring/Summer 2015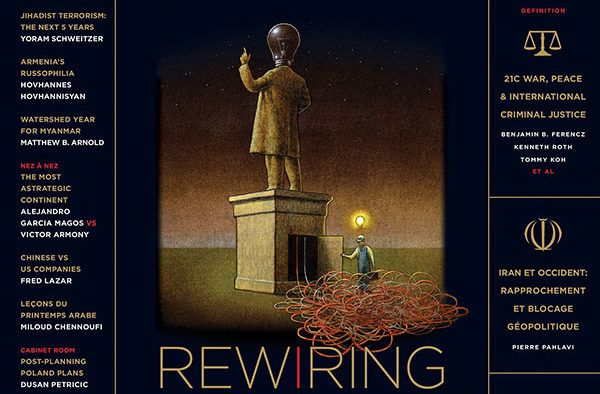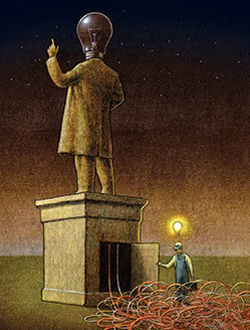 When Open Societies Calcify in their Certainties
There is no nation that does not fancy itself on the right side of history. Fixity in ideas must be destabilized if there's to be any human progress at all.
GB n'est pas «Charlie». But if GB's preoccupation is not free speech as such, and if its modus operandi is not provocation at any cost, then the heart of its identity is high-brow analytics, sharp theses, and the avoidance of intellectual dogma or, even worse, intellectual banality – perhaps the greatest malady afflicting the English-language commentariat on international affairs in this early new century.
From politics to business and religion, even the most open societies – those in the West – can easily fall into the trap of facile or insular thought patterns (how can our thinking be banal if we are so developed?) – only to be excelled quickly by societies that have studied the West's best, reengineered its nostrums, and added significant value to the human condition and its discourses.
GB does not believe in revolutions: too many people die in revolutions. But it does believe in adding edge at the margins to received wisdoms, reformulating ideas to advance debates, and pushing intellectual boundaries in order to rewire the brains of our readers the world over – and most of these readers are of the strategic ilk to begin with.
This rewiring of the 21st century strategic brain, then, is the preoccupation of the Spring/Summer 2015 issue of GB. Yoram Schweitzer of Tel Aviv's Institute for National Security Studies launches this number in the One Pager by looking ahead at the next five years of terrorism – and specifically jihadist terrorism in light of the recent attacks in Sydney, Ottawa, Paris and Copenhagen. In the lead Feature, the University of Ottawa's Wesley Wark tells us how to avoid an endless war against jihadist terrorists by exploiting the vulnerabilities in the strategic doctrine of jihadism, but also by investing in societal resilience and state preparation. Brett House of the University of Toronto's Massey College makes the case for the private sector and private capital as essential (and thus far largely missing) inputs in the global fight against poverty – and this even if wealthy states offer generous international aid envelopes. Pierre Pahlavi of the Canadian Forces College (Montréal) explains Iran's behaviour and options in the context of Tehran's fraught nuclear dances with the P5+1 – just as we prepare for all to come to a head. Miloud Chennoufi of the Canadian Forces College (Toronto) then distills the five great lessons of the failed Arab Spring. Finally, Wang Dong of Peking University's School of International Studies argues that misperceptions and misjudgements continue to plague China-US relations. He shows us how both countries can and must escape this trap.
In Tête à Tête, GB examines the multiple shocks hitting Moscow as well as the Kremlin's policy and exit options with Vladimir Mau, rector of the Russian Presidential Academy of National Economy and Public Administration. GB also exchanges with HRH Prince El Hassan bin Talal of Jordan, building on the ideas of GB managing editor Sam Sasan Shoamanesh, about how to reengineer the Middle East or West Asia in terms of regional institutions, identity, citizenship and welfare (one of 21CQ's major Questions).
In Query, Vyacheslav Tolkovanov of Ukraine's Higher School of Public Administration and former head of the Ukrainian civil service assesses the reforms that Kiev must deliver – with heroic competence – if the country is to stitch itself back together and eventually prosper à l'européenne in the aftermath of Minsk 2.0 and more than 6,000 deaths in the Donbass war. Fred Lazar of the Schulich School of Business compares US and Chinese companies, in the year 2015, only to determine that US companies and industry still have enduring advantages that will be difficult to mimic or overcome by even the cleverest Chinese concerns.
In Nez à Nez, GB Geo-Blogger Alejandro Garcia Magos and Victor Armony of the Université du Québec à Montréal joust over whether Latin America is in fact the world's least strategic theatre. (GB is in Warsaw for Cabinet Room, intently listening in on Poland's paradoxical 'post-planning' period plans and projects.)
In The Definition, GB examines the import of international criminal justice in the context of war and peace in this early new century. Famed former Nuremberg prosecutor Benjamin B. Ferencz, Human Rights Watch Executive Director Kenneth Roth, and Singaporean emeritus senior diplomat Tommy Koh all weigh in. In Strategic Futures, Phil Triadafilopoulos of the University of Toronto's School of Public Policy and Governance, John R. Bowen of Washington University in St. Louis, and GB Associate Editor Michael Barutciski look ahead to the state of Western multiculturalism in the year 2020.
In Situ reports come to us from The Asia Foundation's Matthew B. Arnold in Nay Pyi Taw, Myanmar, and also from Hovhannes Hovhannisyan in Yerevan, Armenia. George Elliott Clarke, Toronto's poet laureate, closes the book, waxing dystopically, in Epigram.
Enjoy your Brief.