The Indigenous Opportunity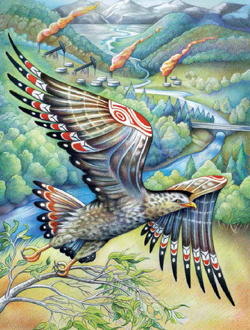 The dramatic resetting of the place, position and power of Indigenous peoples is an opportunity – for Canada's domestic health and also for its strategic success
At the northeast corner of British Columbia, the Fort Nelson First Nation – population 700 – is but one of many Aboriginal communities, organizations and individuals at the cutting edge of establishing a new doctrine that not only governs relations between Indigenous peoples and the Canadian state, but may even offer a new opportunity to bring sustainable approaches to resource development at the global level.
For centuries, the Dene and Cree people of today's Fort Nelson First Nation have practiced a rich culture, harvesting the land to sustain themselves, yet also respecting the delicate balance of the natural order around them. Now there may be a new path to economic prosperity: liquefied natural gas (LNG). The BC government has staked its long-term fiscal health on the development of LNG, betting that a price differential in the Asian market will provide enough revenue to help it balance its books and spawn an industrial base that may one day rival Alberta's oil sands. While this ignores the prospect of Russian or Australian gas beating the BC product to the Asian market, it has led to dozens of wells being drilled in the traditional territory of the Fort Nelson Dene and Cree.
In April of this year, Sharleen Gale, at the time the community's chief, invited industry, government and First Nations leaders into Fort Nelson to chart a course forward in respect of the development of the LNG resources. Around this time, and without informing First Nations, the provincial government removed the requirement for environmental reviews of LNG power plants in the province. Gale learned of this decision the day before the start of the conference.
On April 16th, clutching a sacred eagle feather, she ejected the emissaries of the provincial government, and then the LNG industry officials as well. The move had a profound effect. Within a day, the province reversed course, apologized and reinstated the environmental reviews. Within a few weeks, the premier had visited the Fort Nelson First Nation and opened up direct communication between her ministers and the community.
The Fort Nelson story is just one of many examples across the country in which Indigenous interests, resource development imperatives and the larger sovereignty of First Nations and the Canadian state are being renegotiated and reconciled in an environment of continuous political, legal and even spiritual flux. Canada is experiencing a dramatic resetting of the place, position and power of Indigenous peoples. This will not only change the fundamentals of Canadian governance and society, but also have significant repercussions internationally.
The forces at play are numerous. A nation-wide, spiritually inspired grassroots movement called Idle No More – driven primarily by young Aboriginal men and women who were challenging the unequal status of their people relative to other Canadians, as well as the deplorable living conditions in Indigenous communities – galvanized the country last year. Alongside Idle No More, several other vectors provide context and colour: the national Indigenous leadership has thus far failed to work out acceptable funding for education and social services with the federal government (in August of this year, the Prime Minister dismissed calls for an inquiry into the disappearance and death of some 1,200 young Indigenous women); a new legal doctrine has emerged from the Canadian courts, with the recent Tsilhqot'in decision affirming treaty rights and Aboriginal title, and requiring the participation of Indigenous peoples in decision-making in respect of resource development in their communities; the work of the Truth and Reconciliation Commission of Canada investigating residential schools (government-sponsored, church-run institutions that, for more than a century, aimed to 'kill the Indian in the child') opened to public view the profound impact of this era on the identity and capacity of First Nations people; and, finally, the UN Special Rapporteur on the Rights of Indigenous Peoples shone a light on the destructive treatment of Indigenous peoples historically and to this day, including in his specific report on Canada this past spring.
There has been mixed reaction to these various vectors. Ottawa, while trying to initiate education reform and retool on some governance issues, has been obdurate in its refusal to guarantee adequate funding for the education of First Nations children without extracting concessions from the communities. The First Nations chiefs are themselves divided: Shawn Atleo resigned as National Chief of the Assembly of First Nations in May of this year in part because of widespread disagreement about how to deal with the federal government. Mining companies and many in the business community are, for their part, reluctant to make changes in what has been a traditionally exploitative approach to resource development. Finally, there is the recurring problem of Canadian racism: two Canadian cities – Winnipeg and Thunder Bay – have had candidates in their civic elections come under fire for being tied to discriminatory comments about Indigenous peoples.
There are, however, positive signs. National attention has finally turned to the issue of missing and murdered Indigenous women. The murder of 15-year old Tina Fontaine of Manitoba's Sagkeeng First Nation led to large-scale marches, national media coverage, and a response from the provincial premiers and the federal government in August.
Indigenous people are increasingly educated. A 2013 report presented at a conference organized by Queen's University noted that from 1996 to 2011 the proportion of the national Indigenous population with a post-secondary education increased from 28 per cent to 48 per cent (an increase of some 183,000 post-secondary graduates). Indigenous adults with a post-secondary education today significantly outnumber those who have yet to complete high school. (Note, of course, that the high school attrition rate among Manitoba First Nations is 63 percent.)
The business world is similarly waking up to the Indigenous resurgence around it. Brian Lee Crowley and Ken Coates have written that "several impressive agreements between Aboriginal groups and businesses point to a burst of job creation, joint ventures and revenue-sharing the likes of which Canada has rarely seen." They note that deals have led to increasing First Nations, Métis and Inuit employment and procurement at oil sands giants like Suncor, uranium companies like Cameco (where Indigenous employment is said to be 50 percent) and at the Baffinland mine. (iPolitics, December 10th, 2012) To be sure, critics may charge that this inclusion amounts to a new form of 'beads and trinkets,' but it more than likely betrays a growing recognition on the part of resource companies that they need a 'social licence' to operate, and more generally to abide by Aboriginal and treaty rights in Canada.
To see this new dynamic in action, consider the Fort McKay First Nation in Northeast Alberta's oil sands. The community of 700 operates completely independently of federal funding, relying instead on a group of companies that it owns to generate CDN$700 million in revenue from resource extraction activities. When Brion Energy (backed by PetroChina) proposed a new development that would have impacted Fort Mackay's ancestral burial lands, the First Nation launched a sophisticated campaign levering legal, media and political pressure to bring Brion to the table and negotiate an agreement. The resulting deal is covered by a non-disclosure clause, but is said to include both economic benefits for the community and environmental protection for the surrounding area.
The transformation has extended to governance as well. Bob Rae, former Ontario premier and past federal Liberal leader, who is now representing First Nations in the strategic development of minerals in Northern Ontario, wrote in the Globe and Mail this past July that "some groundbreaking modern treaties have been negotiated and signed – in Quebec, Labrador, Nunavut, Northwest Territories and British Columbia – in which more equal and positive relationships have been established with shared powers, revenue distribution, and massive land claims that have recognized Aboriginal jurisdiction over large portions of their traditional lands. They have altered the political and economic landscape to better recognize the fact that First Nation and Aboriginal governments are real, and have a jurisdiction that needs recognition in fact and in law." These agreements were negotiated in large measure because of a need to reconcile the Aboriginal title to the land with the Canadian state's assertion of sovereignty over it.
Then came the Tsilhqot'in decision earlier this year. This was the first time that the Supreme Court had recognized that Aboriginal title exists on a defined piece of land. In the holding, the Court said that Aboriginal title is similar to fee simple title, with the exception that it is communally held, and can only be usurped by the Crown if there is a very compelling public interest to so do. The decision also moved the dial for engagement with First Nations beyond the previously established "duty to consult" toward the standard of obtaining the "consent" of the Indigenous group in question. In short, communities that can demonstrate Aboriginal title to their homelands have the right to say no to development. This does not necessarily mean they will in fact say no, but only that proponents now ought to treat them with the same seriousness with which they engage the federal and provincial governments in Canada.
Tsilhqot'in means that First Nations with Aboriginal title should now become even more of a force with which to be reckoned at the negotiating table, given their enhanced legal standing. What is less well understood is that this may also be seen as another step toward a change in the constitutional order in Canada. The 1982 negotiation (and subsequent refinement in 1985) of section 35 of the Constitution, which "recognizes and affirms" Aboriginal and treaty rights, reintroduced the notion of Indigenous sovereignty to Canadian public discourse.Tsilhqot'in has now moved us a step closer to the day when First Nations are universally accepted as a proper constitutional order of government in Canada.
Of course, this evolution entails a degree of uncertainty: Canada is entering uncharted territory. Rather than viewing this with skepticism or trepidation, we argue that it ought to be seen as an opportunity. Seizing this 'Indigenous opportunity' would put Canada in a position to advance sustainability objectives on multiple fronts: social sustainability by addressing its most pressing social justice and moral issue (the poverty and social conditions faced by many Indigenous people); cultural sustainability by finally acknowledging and celebrating the Indigenous dimension of its national identity; environmental sustainability by marshalling Indigenous knowledge to help mitigate environmental impacts; and economic sustainability by bringing business practices into line with the emerging framework of Canadian constitutionalism.
Canadian businesses, especially resource firms, should also manifestly benefit from better collaborations with Aboriginal communities. Risk and litigation can be replaced with certainty, partnerships and shared prosperity. Bref, the 'Indigenous opportunity' approach or paradigm makes good commercial sense. The smartest corporations in the land already recognize that it is better to have inclusive relationships with Indigenous people at the boardroom table rather than in the court room or on the picket line. Such thinking may before long prove to be a competitive advantage that will allow these companies to succeed in the new business environment – this as competitors that drag their heels and fight tooth and nail with First Nations risk being left behind.
The 'Indigenous opportunity' approach can also reposition Canada and its business community in the international arena. For one thing, the best practices of Canadian business in Indigenous inclusion can be exported. For example, in the Canadian mining industry, which has worldwide interests, many projects involve fractious relationships with Indigenous people. The principles and norms established through partnership with Indigenous people in Canada could be applied to other theatres, leading to better opportunities and less resistance to activity abroad. Of course, this means that some firms will have to change the way that they do business – not only by accommodating Indigenous interests, but also by being prepared to respect the decisions of communities that do not give their consent to certain projects.
The Arctic is a major test case for this new logic. Canada shares the theatre with seven other circumpolar countries. Melting ice and the opening of the waters are fast suggesting the prospect of a treasure trove of minerals and energy. Already there is a boom in resource development, and nations with even a tenuous claim to the Arctic are calibrating their military and diplomatic capabilities to ensure that they profit from the bounty.
Canada can solidify its claims to sovereignty in the region by inserting Indigenous rights into the Arctic Council proceedings. This would mean ensuring that every nation making an Arctic play abides by international standards for Indigenous rights – specifically those articulated in the UN Declaration on the Rights of Indigenous Peoples, which asserts the same requirement for obtaining consent from local communities as articulated in the Tsilhqot'in decision. In such a scenario, Canada, but also Russia, the US, Norway, Denmark and other countries would include the Inuit, Saami, Native Alaskans and others in decision-making. Of course, including these Indigenous nations would also assure them of a proper stake in the dividends of Arctic development, helping to alleviate some of the social problems that they face. (Note that the Nunavut Land Claims Agreement with Canada gives the Inuit a strong reason to advocate for Canadian sovereignty over that part of the Arctic.)
The literature connecting Canada's Indigenous peoples to not only the country's internal health in this new century, but also its strategic prospects on the global stage, has yet to be written. There is arguably not a single serious book in the genre. For now, the contours of the norms for this new dance are being drawn faster on the ground than the pens of intellectuals and the rhetoric of the political classes can bear. But mentalities will soon shift, as the opportunities will prove overwhelming, just as failure to seize them will, for Canada, prove overwhelmingly painful.
Lloyd Axworthy was Canada's Minister of Foreign Affairs from 1996 to 2000, and President and Vice-Chancellor of the University of Winnipeg from 2004 to 2014.
Wab Kinew is the interim Associate Vice-President for Indigenous Relations at the University of Winnipeg and a correspondent with Al Jazeera America.
(Illustration: Sylvie Daigneault)