Editors' Brief – Fall 2013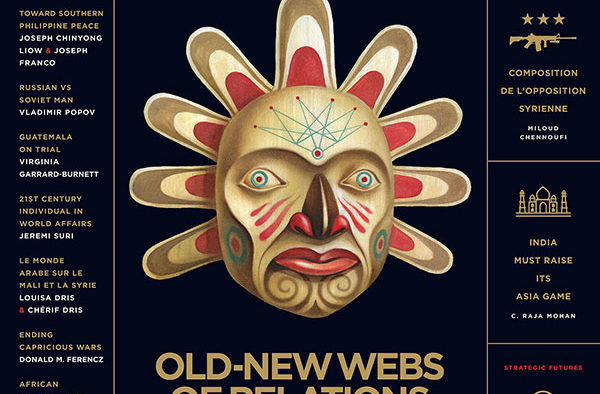 The return of Indigenous algorithms and the rise of new ideas about how the world works
What do ancient Indigenous precepts about so-called 'webs of relations' mystically linking people and non-people together across space and time have to do with international affairs? No one has asked. And yet prior to European contact (and assimilation into European ritual), Indigenous people worked within a quite complex system of 'international affairs' among various nations and tribes that each had interests and bottom lines and varying capabilities to defend these. There was a far more profound sense among the players in this Aboriginal game that the general strategic dance was to be enduring and continuous over an extremely long period of time. As such, the game was, for all intents and purposes, indefinite, and the deportment of the parties to it more harmonious and proportional – in peace as in war – than that of modern states, for whom many games (especially war) were and remain definitively one-off and therefore zero-sum in character. The Aboriginal idea of the indefinite game was hegemonic in North American strategic behaviour until the early 19th century. But it is little known or understood today.
As the Idle No More movement protests longstanding Aboriginal grievances, it is also a proxy for the rising assertiveness and effectiveness of Indigenous players not only about discrete socioeconomic causes, but also as eventual rule-setters – once again – in 21st century notions about how people ought to relate to the world, as well as to other people (and non-people), groups and countries in the world.
Vladimir Popov has the One Pager position in this issue, comparing the lot of the Russian man in 2013 with that of the late Soviet man. In the lead Feature, Douglas Sanderson of the University of Toronto's Faculty of Law posits the return of the Indigenous people of North America to centre stage in the continent's political and strategic debates – and with this, the rising currency of Aboriginal philosophical constructs involving a 'web of relations.' David Skilling of Landfall Strategy Group in Singapore writes in praise of small states and their prospects in a world that appears to favour the big players. Canadian Forces College professor Miloud Chennoufi navigates the sinews of Syria's complex opposition factions – who are they? What do they want? And what's to be done by all sides? Jeremi Suri of the University of Texas at Austin tells us how the individual matters more than ever in today's international relations – but in ways that are not altogether obvious. Finally, C. Raja Mohan from New Delhi's Observer Research Foundation critiques India's 'Asia game' amid the recent border tensions with China, calling on New Delhi to reinvent the 'strategic autonomy' once played so well by Nehru.
In Tête à Tête, GB interviews Roméo Dallaire, former UN commander in Rwanda and now Canadian senator, about the good, the bad, the ugly and the possible in relation to the 2011 NATO intervention in Libya, as well as the wisdom of a similar intervention in today's Syria. GB asks former Israeli Supreme Court dynamo Aharon Barak about the proper limits of courts and judges in the context of wars and brokered peace.
In Query, Louisa Dris and Chérif Dris examine the various positions of Arab states on the major conflicts in the region – Mali and Syria. Donald M. Ferencz from the Global Institute for the Prevention of Genocide updates us on the progress of the still somewhat vexed push to criminalize aggression (illegal or capricious wars) at international law. In Nez à Nez, Frédéric Charillon of the Institut de recherches stratégiques de l'École militaire (IRSEM, in the French Ministry of Defence) and Laval University's Gérard Hervouet debate whether it is in fact Asia or the Middle East (Western Asia) that is more important to today's Europe.
In The Definition, UN special adviser on genocide prevention Adama Dieng, Baye Moussa Samba of the Dakar municipal government in Senegal, and John W. McArthur, formerly of the UN Millennium Project, explain the sources of Africa's still-considerable public health challenges. In Strategic Futures, Brookings' Diana Villiers Negroponte, Roberto Newell Garcia of the Mexican Institute for Competitiveness, Manuel Balan of McGill University, and GB's own Alejandro Magos look forward to the Mexico of 2020. In Situ reports come to us from the University of Texas at Austin's Virginia Garrard-Burnett in Guatemala City on the genocide trial of former General Efrain Rios Montt. Joseph Chinyong Liow and Joseph Franco, both of the S. Rajaratnam School of International Studies at Singapore's Nanyang University, wax optimistically about the progress of peace negotiations between Manila and the Moro Islamic Liberation Front (MILF) in the southern Philippines. GB visits Israel's Cabinet Room to witness the many 'kitchen cabinets' that form effective oppositions to the executive branch. Douglas Glover closes the book in Epigram.
Roméo Dallaire joins GB online as one of our elite Geo-Bloggers.
Enjoy your Brief.