Editors' Brief – Winter 2011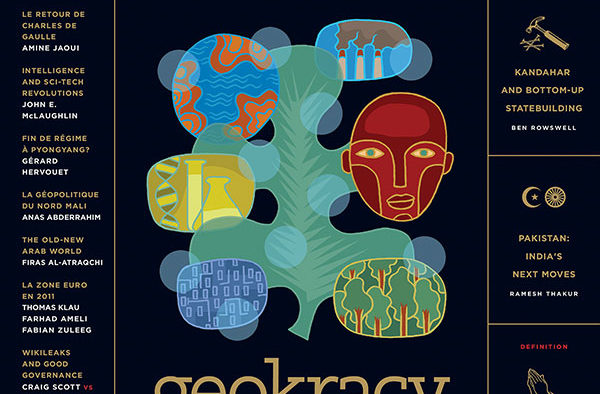 So What's a Geokrat?
A 21st-century woman or man seeking to understand and discipline the world's chaos, and still humble before the impossibility of the task
The 20th century saw men and women working tirelessly to 'master' the more essential or primary forces that have ruled the world since the dawn of human affairs: Nature, the spirits ('animal spirits,' or even geist) and, yes, God. In many cases, this attempted mastery – driven by revolutions in science, technology and thinking – was successful: homes and big cities became comfortable, self-contained and self-sustaining; individual tastes and corporate economic behaviour became measurable and predictable; and religion was stripped from the proper ambit of prosperous states. Public policy in general – and foreign policy in particular – reflected the times. It became hyper-technical, emphasizing the observable (empirics) and creating demand for newer and newer forms of expertise – including a scientific class that had no need of things divine to explain Creation. And yet less rational beliefs in the divine and in the extraordinary persisted – at least in non-public spheres – and evidently continue to persist.
The 21st century will not see humans tire. They will continue to innovate, compete and explore (from the self to the recesses of outer space). Only this century – surely – will see the said primary forces of existence return with a vengeance. Mankind will be put into its place, as it were. From changing climate (Nature) to new forms of tribalism, nationalism and socio-political expression (the spirits), to resurgent and morphed religiosity (God) in many parts of the globe, the challenge will be to negotiate the tension between the will to self-govern and the imperative of conceding to – although not necessarily worshipping – the greater elements of life that are manifestly beyond the control – and often ken – of humanity. The geokrat can do this.
John E. McLaughlin, former Director of the CIA, starts things off in this Winter 2011 issue of GB by anticipating the scientific and technological revolutions of the next several decades, and assessing their impact on the craft of intelligence. In our first Feature, Canadian Aboriginal leader Roberta Jamieson mines indigenous wisdom and political philosophy to distill their multiple lessons for this new century's international affairs. Former UN Assistant Secretary-General Ramesh Thakur makes the case for a far more muscular Indian strategic posture vis-à-vis historic arch-rival Pakistan. Katerina Dalacoura of the London School of Economics takes note of the recent revolutionary uprisings in the Arab world to wager that, in the aggregate, political Islam may well be a spent force. Ben Rowswell, past Director of the Kandahar Provincial Reconstruction Team, talks state-of-the-art state-building and the complexities of the very live Afghan case-study. And in our final Feature, strategic analyst Amine Jaoui brings Charles de Gaulle back to life, positing the renewed relevance not of gaullisme, but of de Gaulle's brute gifts of leadership for today's geopolitical games.
In Tête à Tête, GB sits down with top geokrat and Nobel Prize-winning scientist John Polanyi to discuss the future of science, technology and God. And Quebec intellectual Gérard Bouchard, co-author – with the philosopher Charles Taylor – of the influential Bouchard-Taylor report (and past co-chair of Quebec's Consultation Commission on Accommodation Practices Related to Cultural Differences), talks 'interculturalism,' 'reasonable accommodation,' the future of Church-state separation, and also the fate of nations and nationalism. In Query, Andrew P.W. Bennett of Ottawa's Augustine College waxes on the import and legitimacy of faith in politics, while Laval University's Gérard Hervouet sees fin de règne for the North Korean regime (and state). Osgoode Hall Law School's Craig Scott and Daniel P. Fata of the Cohen Group square off in Nez à Nez on the virtues of leaks and secrecy – Wikileaks oblige – in modern governance. In The Definition, we ask Chomsky and other top thinkers to reflect on the proper relationship between religion and politics. Another group of thinkers forecasts the health of the Eurozone in Strategic Futures. In Situ reports come to us from – of course – Cairo, by Firas Al-Atraqchi of the American University in Cairo; and on Al Qaeda in the Islamic Maghreb (AQIM) from northern Mali and the Sahel – nearly two years after the release from kidnap of Canadian diplomats Robert Fowler and Louis Guay – by Anas Abderrahim of Senegal's Cheikh Anta Diop University. GB visits Mexico's Cabinet Room to observe the reaction of the Calderon government to the revolts in Tunisia and Egypt. Douglas Glover sees us off with panache in Epigram.
GB proudly welcomes Lloyd Axworthy – former Canadian foreign affairs minister, Nobel Prize nominee and current President and Vice-Chancellor of the University of Winnipeg – as its newest Geo-Blogger at: www.globalbrief.ca/lloydaxworthy. Join us. And enjoy your Brief.
(Illustration: Jose Ortega)