Editors' Brief – Fall 2009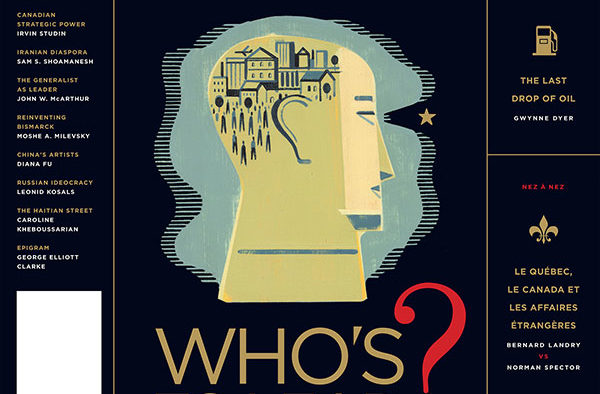 GB is Back
And the World Remains a Fascinating Place
So US President Obama has the Nobel. But that, almost certainly, is prospect – and it still begs the central question that we are asking in this issue of Global Brief: Who's to Lead? And what's to be done?
Indeed. All this heady talk of leadership presumes that there are great problems to be solved in this world of ours. Is there any greater tautology in political life? Problems abound as ever before: a nuclear North Korea and an (almost?) nuclear Iran; an imploding Pakistan and an inscrutable Afghanistan; a broken Iraq; an increasingly difficult-to-defend Israel no closer to détente with its neighbours; a nearly constitutionalized Europe still in search of strategic identity; a Russia obsessed with its Russianness; multiethnic federations – Canada among them – struggling to bolster the 'centre' against mounting centrifugal forces; inexorable climate change, international economic uncertainty, rambunctious migrations and multiple species of dire want – want for food, water, energy and, yes, dignity. The state is once again the prime mover in global affairs (let there be no doubt), but older, more classical forces like religion, nationalism and tribalism are clearly back in play. Despite the best intentions of man, there is still no real 'global community' – only the raw complexity of a world that must be managed (at best) and tamed (at worst).
If Obama has begun to move the global narrative – if ever so slightly – then the world still nervously awaits the content and strategy of this new century's major leaders. Who are they? And what will they do to make their mark? If the governing trait of our age is said complexity, then the leadership – heads of state or government, captains of enterprise, academic supremos, governments and groups of governments, sophisticated movements, and indeed countless other types of human organization, many of these yet to be devised – must understand this complexity, be comfortable in its midst and negotiate it with aplomb. Winning, or even survival, will be a function of two key variables: luck and culture (strategic culture).
A world-beating roster once again joins GB to tell us how it is. In the One Pager, best-selling writer and journalist Gwynne Dyer predicts a collapse of oil and the corresponding descent of the Middle East into strategic irrelevance. American 'geocrat' Fareed Zakaria waxes on strategic culture in our first Tête à Tête. Former UN top woman, Canadian jurist and current President and CEO of the International Crisis Group Louise Arbour talks brute leadership (great men and women) in our second Tête à Tête. In our Features section, past French foreign minister Hubert Védrine assesses the prospects for serious strategic leadership, going forward, from the EU (à la 27). Christopher Alexander, former UN Deputy Special Representative of the Secretary-General in Kabul, writes about Afghanistan's complicated possible futures. One-time international President of Médecins Sans Frontières James Orbinski meditates directly on our theme, 'who's to lead?' Sam Sasan Shoamanesh, associate editor and GB co-founder, analyzes Iran's dynamic global diaspora. And John W. McArthur, CEO of Millennium Promise, makes the case for the 'deep' and 'flexible' generalist as the ideal-type for the leaders of the 21st century. In Situ reports come to us from Diana Fu, just outside Beijing, writing about the Chinese art scene in the context of the Great Recession. Leonid Kosals reports from Moscow on Russia's emerging 'ideocratic' state. And Caroline Kheboussarian, writing from Port-au-Prince, describes the vivid and paradoxical streets of Haiti's capital. Schulich School of Business professor Moshe A. Milevsky looks for future 'Bismarcks' (in the pensions game) in our first Query, while I explore the strange question of Canadian strategic power in the second Query. Former Québec premier Bernard Landry and past Canadian prime ministerial chief of staff Norman Spector go Nez à Nez over the due division of powers and responsibilities in foreign affairs between Ottawa and Quebec City. GB asks "Who is the World's Most Strategic Leader?" in The Definition, and then, in Strategic Futures, shifts to the question of where the cars of the next 10 years will be made. Virtuoso poet George Elliott Clarke closes things off in style for this issue in Epigram.
Special thanks to Sam Sasan Shoamanesh (my brother in arms), Louis Fishauf, Fernando Zerillo, Steve Bruno and the entire GB team for a job well done, and to Kenneth McRoberts, Alex Himelfarb, Brian Desrosiers-Tam, David Dewitt, Fred Lazar, Tom Quiggin and all of GB's supporters the world over.
Enjoy your Brief.