Editors' Brief – Welcome to Global Brief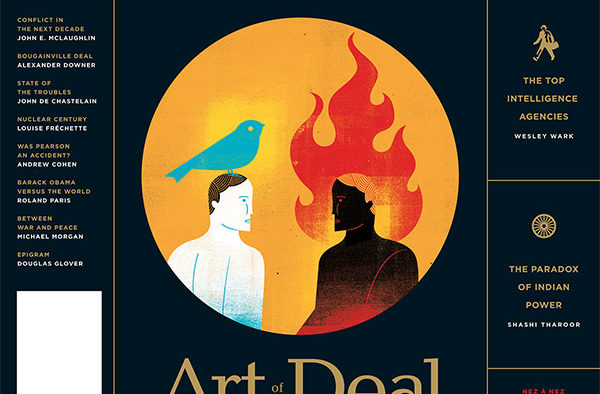 Say hello to the newest dog in the fight
Strange fact: Canada has no top-tier international affairs magazine. No high-level platform for emerg- ing and top thinkers to argue about the world. No authoritative 'rag' to spur decision-makers. No contri- bution – in written form, at least – to the global agora of debates about the world and its destiny. Britain has The Economist. The US has Foreign Affairs and Foreign Policy. France has Le Monde Diplomatique. And so on. Where, one asks, is Canada's 'dog in this fight'?
Global Brief attempts to fill this void. It profits from none of the funding and incumbency advantages of the aforementioned great publications, but it seeks to be one of the first serious platforms of this new century – aimed at a global readership and populated by the works of top global writers – dealing with world affairs writ large – international politics, business, culture, movements and trends. It has no moral mandate. It is not Anglosopheric. It is not sensationalist. Nor is it fatalistic. Rather, it seeks to analyze and explain the world in all its bald complexities, to anticipate different 'strategic futures,' and to reflect – with policy relevance and nuance – on ways to address these complexities.
The Art of the Deal – the small 't' theme of our inaugural issue – speaks directly to the emerging identity of this new platform. A world-class inaugural roster tells us about how future 'deal-makers' must think about the world's emerging geopolitical and economic puzzles, as well as a host of related issues.
In the One Pager, John E. McLaughlin, former head of the CIA, starts us off by prognosticating on the conflicts of the next decade. John Kay of the Financial Times tells us how complex deals are to be struck, as does Alvaro de Soto, former UN top man, by way of kinetic interview in our Tête à Tête section. Louise Fréchette, former Deputy Secretary-General of the UN, talks bluntly about nuclear futures in our other Tête à Tête. Lawyer Ran Goel, former Australian foreign minister Alexander Downer and John de Chastelain, chairman of the Commission on Decommissioning in Northern Ireland, respectively give us In Situ reports from Colombia, Papua New Guinea and Belfast. In Query, Harvard professor Steven Pinker speaks to the quirks of human irrationality in international deal-making, while author Andrew Cohen tells us whether Lester B. Pearson, Canada's most famous ever deal-maker, was the accidental progeny of a society that has been hard-pressed to produce international leaders. Fred Lazar of the Schulich School of Business discusses the resurgent future of global M&A. Wesley Wark of the University of Toronto ranks the world's intelligence agencies, and Roland Paris of the University of Ottawa opines on prospects for Obama as the 'forces' of the world gather in potential opposition. Yale's Michael Morgan argues that history suggests that more war can sometimes issue in a better peace, while an imperfect peace may issue in more bloody wars.
Shashi Tharoor – fresh from the Indian elections – argues that India's future strategic power will and should be 'soft.' Gordon Smith of the University of Victoria and York University's Saeed Rahnema face off in Nez à Nez–a frank point-counterpoint debate on Canadian interests in Afghanistan. Finally, in The Definition, we ask some top minds to tell us about the pedagogy of future global leaders, while in Strategic Futures, we predict possible end-game scenarios in the emerging 'great game' in the Arctic. Barry Blitt, frequent cover contributor to The New Yorker, depicts a scene from The Cabinet Room of Vladimir Putin.
Please visit us often at www.globalbrief.ca. Global Brief publishes bi-monthly to start (please subscribe online), but our web presence also includes regular web specials (in English and French), videos and podcasts, Facebook, as well as daily multilingual expert blogs to the world: in English, French, Man- darin, Russian, German and Spanish. We will very shortly add Farsi, Arabic and Hebrew expert blogs.
I should like to sincerely thank Jim Balsillie, Chair of the Canadian International Council, Hugh Segal, Doug Goold (past president) and the entire CIC board and staff for the opportunity to lead this publication. I am indebted to my family (particularly my dear wife, Alla) and to Sasan Shoamanesh, an abiding friend who was instrumental in the conception of this magazine. For the record, Action Canada – Sam Belzberg, Jack Blaney and Cathy Beehan – provided the seed funding for the creation of the original business case for a very early prototype of such a publication. That prototype, named 'Lester,' was developed by a group of Action Canada fellows in 2007- 08. I was among their number. The others were Tim Coates, Shauna Mullally, Jane Macdonald, Taylor Owen and Gino Reeves – all working under Antonia Maioni of McGill University.